 SM Wine Cubes Prosecco Video
Telling Your Story
See our video marketing services in action
Meet the Client
Founded in 1952, Save Mart Supermarkets had a humble beginning in California before it expanded into the quality grocery stores we know and love today.
With stores spanning northern and central California, as well as parts of Nevada, Save Mart Supermarkets came to Digital Attic in the hopes of developing unique videos in an effort to market a range of beverage products.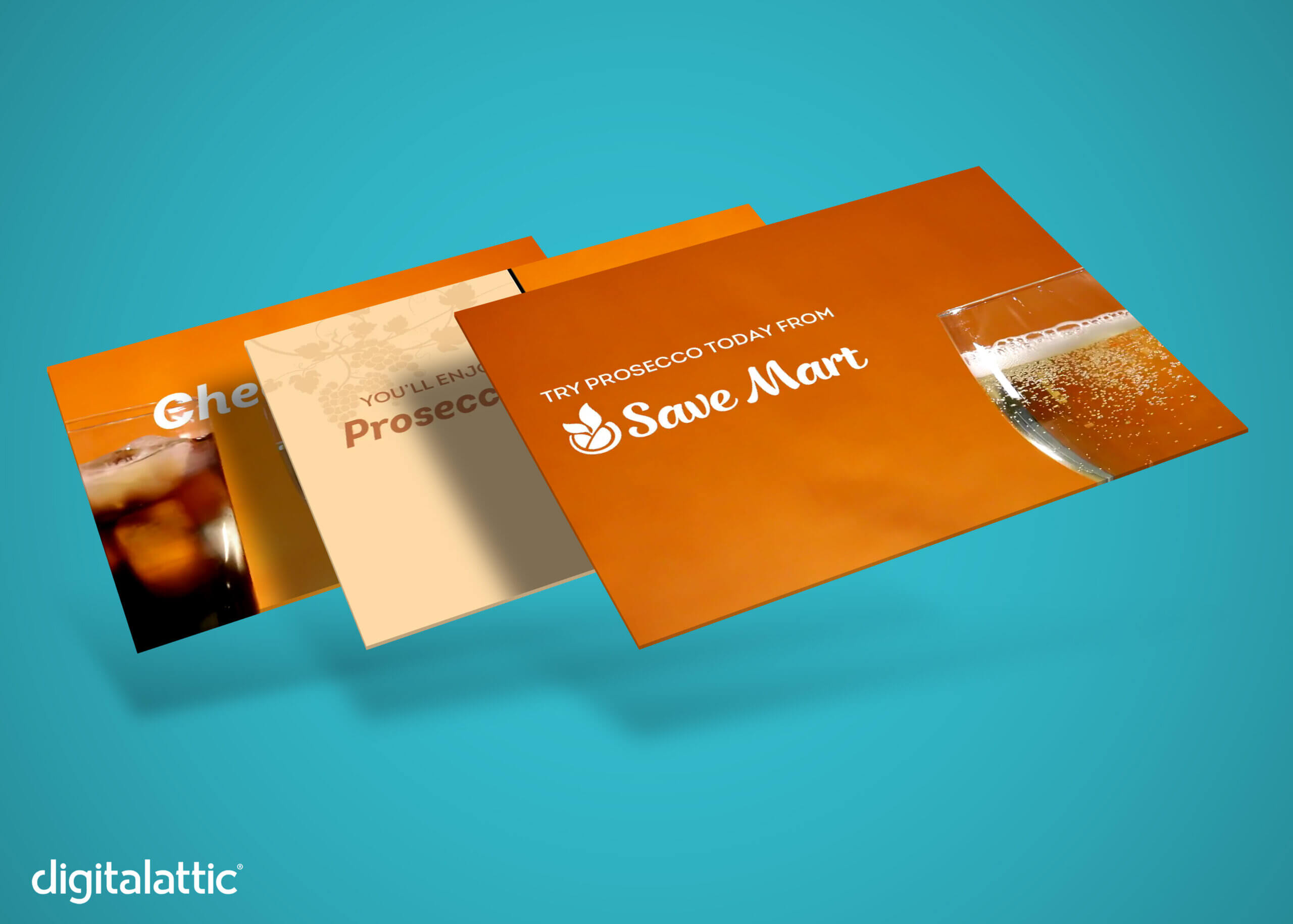 Visualizing the Concept
At Digital Attic, we know that a video project has its stages and that careful planning and teamwork must go hand in hand in order to reach the desired final product. Save Mart Supermarkets wanted a fun, uplifting video that would not only capture the attention of its customers, but also help to market its products to a wider audience. The first step in the project was to brainstorm what we wanted to show and what we wanted the final call to action to be for viewers. Our creative team worked on a few storyboard ideas and visualized the set for the video to get the ball rolling. Once the concept was approved, the real planning began. Digital Attic worked through the different shots that would be a part of the video and prepared the set for filming.
Graphic Design
The video idea was to provide a split screen image showcasing the two beverages that were being compared to one another. Since the actual video was only a few seconds long, timing and details were essential to ensuring the video served its initial purpose. The Digital Attic team used custom graphics to incorporate in the video and elevate the visuals. Using the graphics as a caption of sorts to communicate with viewers, we managed to make the video more accessible to the audience while staying true to the initial video concept. The graphics were also intentionally placed on opposite screens of the beverage being featured to effectively compare soda to prosecco. We believe the graphics truly served to bridge the video with the message, helping viewers to also make the comparison in drinks.
Tying it all together
Oftentimes the hardest stage of any video project is the editing stage. It can be long and trying, but when done correctly, it is the stage that brings the entire project to life. Our video team understands this and dedicates a lot of time to ensuring the individual shots and graphics come together to complement each other. The transitions need to be flawless, the music in the background should work with the visuals and not distract from the message. In this case, our team took extra measures to color correct the shots in the video so that the end result flowed flawlessly. Using some special effects and our expert attention to detail, we managed to create a fun, attractive video that effectively marketed the product to the target audience.
---